Dear friends,
I'm the happy owner of a QNAP TS-639 Pro. Inside it I have placed six Western Digital 2.0TB drives, configured as RAID 5. I have started making a series of tests under Mac OSX and I must say I'm really pleased of the results, even if it looks the AFP (AppleTalk Filing Protocol) implementation on the QNAP still does have some small bugs here and there.
Below you can find a graph of the test performed on my TS-639 Pro, showing the write/read performance with files ranging from 4KB and 100MB, using both AFP and iSCSI.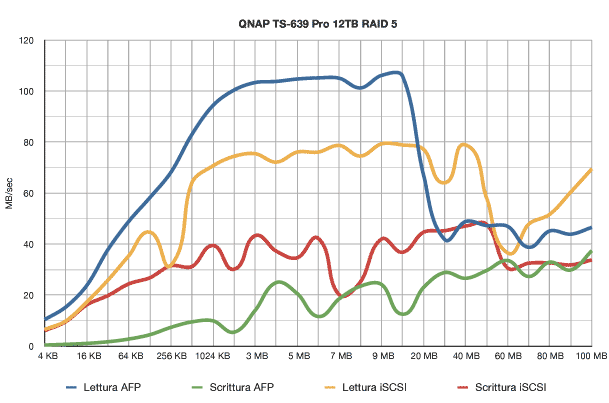 From the graph above, you can see how the AFP reading perfomance is definitely better than the iSCSI protocol, at least while reading files smaller than 20MB, reaching a reading peak of about 106MB/sec. On the other hand, writing speed under AFP is very low with files smaller than 4MB (always under 20MB/sec) and it's almost always slower that iSCSI, which may reach writing speeds of about 50MB/sec.
Please note that the tests have been made with an Apple PowerMac G5 Quad 2.5GHz with 4.5GB di RAM and Mac OSX 10.5.6.
Note:
Lettura = Reading speed
Scrittura = Writing speed