Disclaimer:
I had initially posted a review on my website previously reviewing the ts-509 pro and ts-659 pro II, but unfortunately my site went down
so i'm just reposting some of what i covered before, as well as other newer stuff in the future as i become familiar with any new features for only officially released products
Anyway, my first QNAP was a TS-509 Pro. The main reason i got it was
-because prior to a NAS i had relied on JBODs in my pc desktop, and i kept running across issues of not having enough storage space due to not enough bays to install additional hdds in my pc casing.

-Also i wanted some redundancy, as in the past i had issues where drives just died on me, and suddenly all my data i so painstakingly collected over the years just went up in smoke.

-And i wanted a server network type device to be able to stream or share data across my network or remotely online via vpn.

-Webserver (apache linux), VOIP (e.g. mumble) and torrent client downloader (e.g. transmission) were other applications i wanted to use.

-wanted a more accessible way to swap drives when needed

- and finally something that would be able to expand to meet my future storage needs, based on my growing data via downloads which when accumulate over the months can tend to go into the terabytes worth of data. though only some of that is worth backing up for
the ts-509 pro was marketed as a smb model, which i wanted for home usage. which ended up working just fine for that case scenario. only now did i realize and come to appreciate that i couldn't have settled for lesser than 5 or maybe 4 bays, so i'm glad i made this choice back then which at the time i thought was overkill.
performance wise the ts-509 met my needs based on the hdds available at the time, and which by the way i was using a raid5 setup.
review:
http://www.tomshardware.com/reviews/qna ... 217-3.html
http://www.smallnetbuilder.com/nas/nas- ... l=&start=3
My other typical usage for the QNAP once i got it though was like
- listening to music using foobar2000 to stream from qnap
- mpc-hc to watch anime 1080p 10bit videos also streaming from qnap
- typical storage, most of my media tend to be big file sizes often ranging 20-100mb, 200-600mb, 1-4gb, 6-8gb, 10-16gb per file. formats such as flac, mkv, zip/rar.
- webserver for fun to run my blog site at the time
- voip mumble server for gaming with online buddies
- also stores my router CIFS logs
Few years after that i got a newer model, a TS-659 Pro II. This one had a beefier, responsive and more efficient cpu which i added a comparison of the 2 below
http://cpuboss.com/cpus/Intel-Celeron-M ... -Atom-D525
essentially i got a more responsive unit upgrade that also saved me on yearly electricity bill as well. I then relegated the TS-509 Pro as a backup to my ts-659 Pro II which was now my main active driver.
the Ts-659 Pro II review: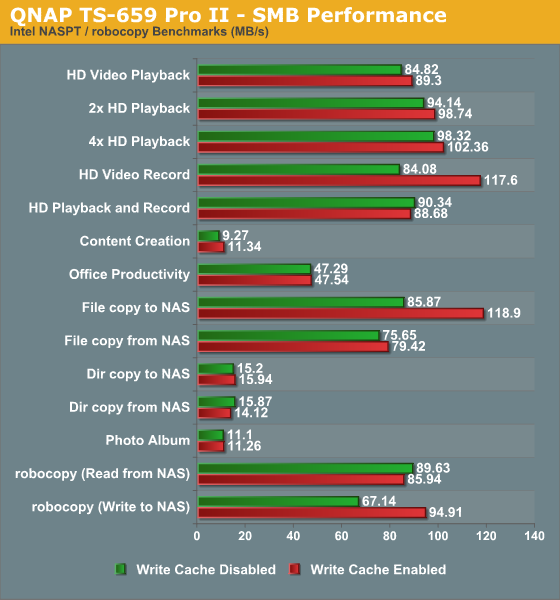 http://www.anandtech.com/show/4834/qnap ... -ii-review
Qts was improving and i managed to explore these newer app and feature options that became available, which you can see from my youtube review
[youtube=q8CqbzJoyWw]QTS v3.4.0 build1207T[/youtube]
the main thing i learned from having these 2 models, was to in the future, get a qnap with equal number of bays so you can do a 1:1 ratio backup if needed later. cause my 509 vs 659 is short by 1 bay, it's not possible to do that. Not to mention that the 509 is limited to 2tb drives per bay. That's another even bigger barrier for using the old nas to perform a full backup
Fast forward to 2015. Now the newer models have features that my 659 pro II doesn't support such as....
- aes-ni hardware acceleration for encryption
- qsirch
- virtualization
- thunderbolt
- snapshots
- 10 gb/e
- quad core cpu
- more ram 4gb+ (is expandable up to 3gb from the default 1gb, which i didn't do)
- cache acceleration
- hdmi (which is needed for hd station ?)
- 4K video support
The full changelog for QTS is here
https://www.qnap.com/i/en/releasenotes/
Any new model i get in the future, these are all features i would love to try out
I've already had a taste of what a low powered cpu NAS is capable of with the Atom D525 which resulted in a lower TDP/annual home energy operating cost.
So for the next step would like to try the other end of the spectrum, for a new cpu that leans more toward better performance gains to open new doors to newer features in future qts firmware.
The shift would be something like either a Intel-Core-i5-4590S or Intel-Core-i7-4790S

http://cpuboss.com/cpus/Intel-Core-i5-4 ... -Atom-D525http://cpuboss.com/cpus/Intel-Core-i7-4 ... -Atom-D525http://cpuboss.com/cpus/Intel-Core-i7-4 ... e-i5-4590S

The downside of going from Atom to either of those cpu examples, is a higher operating cost which based on the comparison
But what's not on the list of qnap current features, but what i foresee may be something QNAP should/or already are gradually working toward to ....
- a more modern file system. stuff like BTRFS, which once is stable enough is something i'm very interested to use due to check sum data integrity with auto scrubbing, not to mention a better snapshotting system that uses less disk space to use that feature.

- more emphasis on security concerns. for me i webserver being able to run safely over the net is what i'm most concerned with. Cause if you can't rely on a secure web server, i rather opt to disable that feature until it is. so things like php, apache modules and other security patches out to be updated on a regular basis. Qnap has improved alot compared to before in recent times. but there is still room for improvement.

https://www.qnap.com/i/en/support/con_show.php?cid=41

- usb 3.1 type-c which is becoming available sometime in 2016 and 2017. this will then provide more connectivity options for this ubiquitous interconnect type.

- more killer apps to make the apps on qnap relevant and useful. a recent addition was the renewed support for mumble, which i have been dying for ages. So i really appreciated that updated.

- better system logging filters, to easily manage log analysis for wildcard unique ips much easier without being initially spammed by repetitive ips, which would require flipping between pages before coming across a new unique ip. in it's current form i just get overwhelmed.

- always looking to refine the gui of the QTS to make it more user friendly and interactive. if i had to guess, maybe closer desktop integration for the GUI.
PS: hope this was an interesting read