Ryzen TS-X77 available for sale now?
Posted: Sat Jul 08, 2017 7:25 pm
Was reading up tech site and i noticed the release date for this
https://www.qnap.com/en/news/2017/compu ... -based-nas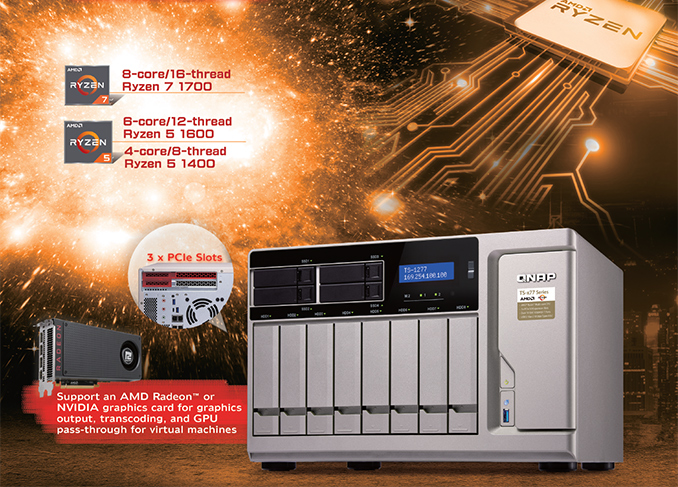 QNAP plans to start selling its AMD Ryzen-based 12-bay TS-1277 NAS

in late July

. The top-of-the-range model with a Ryzen 7 1700 and 64 GB of memory will cost $3,099, a slightly cheaper SKU with the same processor, but 32 GB of DDR4 will retail for $2,599, whereas the most affordable configuration powered by AMD's six-core Ryzen 5 1600 will be available for $2,299.

Source:

http://www.anandtech.com/show/11523/qna ... ryzen-cpus
QNAP demonstrated its upcoming 12-bay NAS devices at Computex 2017, including most notably models powered by AMD's Ryzen processors. The NAS will support HDDs and SSDs in various form-factors and will start at $2,299. In addition, the company is prepping 6-bay and 8-bay NAS featuring AMD's Ryzen CPUs that will be more affordable.

The QNAP TS-1277 series NASes are powered by AMD's Ryzen 7 1700 or Ryzen 5 1600 CPUs with eight and six cores respectively, and come with up to 64 GB of DDR4-2400 DRAM. All the systems use four GbE ports to connect to networks and have eight 3.5"/2.5" bays as well as four 2.5" bays for various SATA storage devices. As you'd expect for a NAS, there's a multitude of RAID options available, with the NAS hardware able to tap the large number of drives here for RAID 50/60 operation. In addition, the NASes feature two M.2 slots (up to M.2-22110) for SSDs that can cache frequently used data.

Meanwhile, the TS-1277 has one PCIe 3.0 x8 and two PCIe 3.0 x4 slots, and thus can be upgraded with QNAP's QM2 PCIe cards, which offer options such as 10GbE networking and additional M.2 slots. For those who needs to have access to the TS-1277 from a local PC or to a DAS, the NAS has two USB 3.1 ports (Type-A and Type-C) and five USB 3.0 headers (Type-A). As for power, the TS-1277 is equipped with a 550 W PSU and can handle all kinds of HDDs and SSDs (as long as they are compatible with SATA-6G and do not require management by the host) as well as almost any graphics card in the PCIe 3.0 x8 slot.

Source:

http://www.anandtech.com/show/11523/qna ... ryzen-cpus
QNAP is the first NAS manufacturer to start using AMD's Ryzen processors for network area storage. AMD's CPUs traditionally have strong integer performance, making them a good fit for NAS tasks. Meanwhile, the high core counts of the Ryzen CPUs also enables QNAP to position their TS-1277/TS-877/TS-677 NASes for hosting virtual machines or containerized applications.

During a conversation at Computex, QNAP also mentioned that the prices of AMD's Ryzen processors (relative to its rivals) were also a major factor in their decision to use Ryzen CPUs for NASes.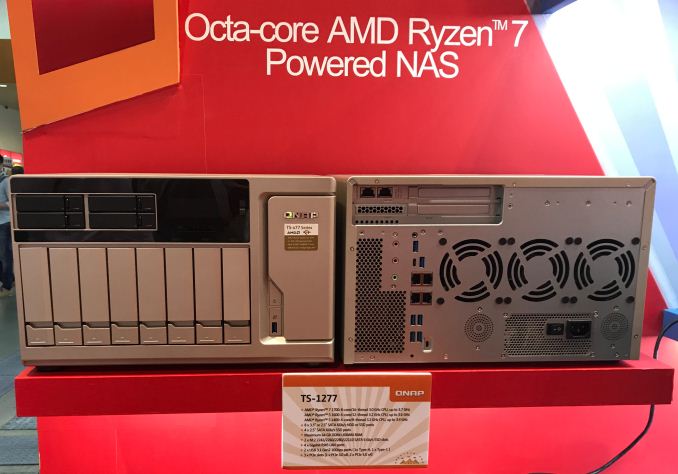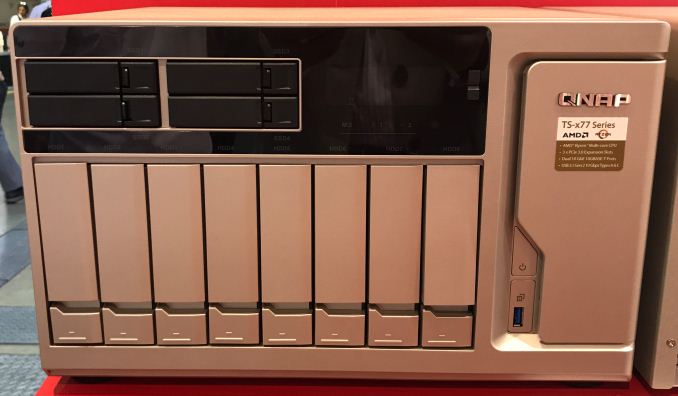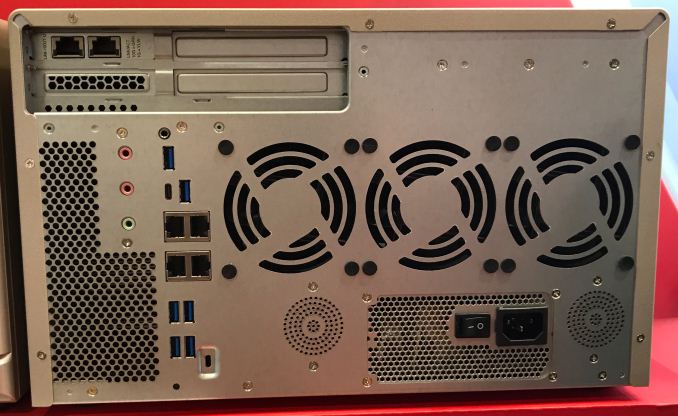 The ryzen is great. to put it another way ryzen 5 1400 and ryzen 6 1500 is better value than an Intel i3 and I5 or at least within that ballpark for performance but with more cores/threads
AMD Ryzen as Fast As Possible

From Youtube.com

AMD Ryzen Lineup vs intel Kaby Lake CPUs Comparison!

From Youtube.com

Every AMD Ryzen CPU TESTED vs. Intel Kaby Lake

In this video, I test every AMD Ryzen 5 and 7 processor and compare them to the Intel Kaby-Lake line-up in both gaming and synthetic benchmarks. Tests: wPrime, Cinebench, Adobe Premiere Pro, Far Cry Primal, The Witcher 3, DOOM, Battlefield 1, Civilization 6 and Streaming.

From Youtube.com
Ryzen 5 1400 Review: AMD R5 1400 vs. Intel i5-7400

From Youtube.com

AMD Ryzen 5 1600 vs Intel i7-7700K

From Youtube.com

Does the 1700 BEAT the 7700K in Games when STREAMING?

From Youtube.com

In the youtube example thats game while streaming. But for NAS, couldn't that also similarly be the same scenario when running a bunch of apps while your transcoding from plex, say (multi tasking) ?
Another thing to consider on one hand the intel will come with an igpu (quicksync?), but the ryzen won't. But a x77 you could install your own gpu card. Then using virtualization you can GPU passthrough
Anyway it only mentions 1277. Anyone know if the other bay models for it is going to be release at the same time as well? also would any of the other models be able to install gpu as well considering their psus?
*update
The TS-x77 series will be available in 6, 8, and 12-bay models with AMD Ryzen 7 (8-cores/16-threads) and AMD Ryzen 5 (6-cores/12-threads and 4-core/8-thread) processors that support AES-NI encryption acceleration and up to 64GB DDR4 RAM. Every model in the series provides three PCIe Gen.3 slots for incredible expansion potential for supporting 10GbE/40GbE NICs, PCIe NVMe SSD, graphics cards, and USB 3.1 expansion cards. Two M.2 SATA 6 GB/s SSD slots are provided for cache acceleration or high-performance storage pools.
I guess even the 250 PSU unit is marketed as such. But is that enough though for a 1050gtx as an example?
or is that overkill.
PS: i've owned both intel and amd cpus in the past. not playing favourites on cpus here, i go where the best value is. so when i'm saying ryzen is great, i'm not trying to start a fanbase war. If a kabylake is the better deal feel free to share why, i'm also interested to know the pros and cons too
Anyway Ryzen got me interested again in Amd. Graphics not so much (maybe not until vega anyway), thats why i went with pascal (if only because volta got delayed
)