Hi all,
my brand new QNAP TS-453Be running 4.3.6.1050 has always been spinning the fan at quite loud levels. It is basically iddle with not many tasks running. Only a container station with Transmission installed on a Docker.
While researching the issue I noticed that changing the profile of the SmartFan from Normal to Quiet or Performance does not really make much of a difference. But I noticed that HDDs are running specially hot as shown below and that worries me.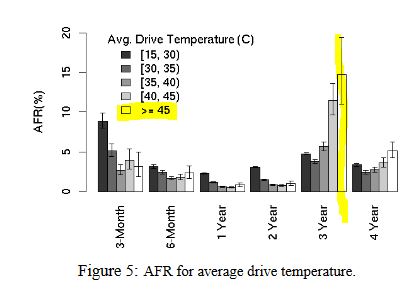 Source:
http://static.googleusercontent.com/med ... ilures.pdf
So, back to my system: these are the figures. All disks closer to 50ºC than 45.
CPU Intel(R) Celeron(R) CPU J3455 @ 1.50GHz (4 cores)
CPU usage 4.0 %
Total memory 8 GB (8 GB usable)
Free memory 6 GB
Memory slot 1 (Channel A, DIMM 1) 8 GB (Transcend Information)
Memory slot 2 (Channel B, DIMM 2) --
CPU temperature 49°C / 120°F
System temperature 40°C / 104°F
Disk 1 temperature 48°C / 118°F
Disk 2 temperature 48°C / 118°F
Disk 3 temperature 48°C / 118°F
Disk 4 temperature 49°C / 120°F
PSU 1 Status Ready
System fan 1 speed 981 RPM
Room temperature 25ºC and in the same room I have my old QNAP TS212p with two disks that are below 40ºC with an inaudible fan.
Any idea what could I try to lower those temperatures in the HDDs?
Thanks in advance.